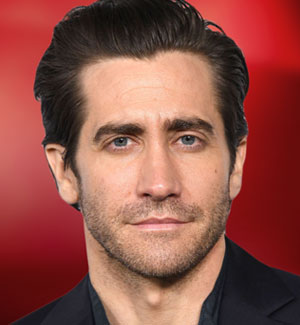 Jake Gyllenhaal
An Academy Award®-nominated actor, Jake Gyllenhaal has established himself as one of the finest actors of his generation. His production company Nine Stories is quickly becoming a force – sourcing material, developing it from the ground up, collaborating with bold storytellers, and shepherding the projects through release.
In 2014, Gyllenhaal starred in Dan Gilroy's thriller Nightcrawler, which he also produced. For his role, Gyllenhaal received BAFTA, Golden Globe®, SAG, Critics' Choice, and Independent Spirit Award nominations and was recognized with Best Actor citations from numerous critics' groups. Notably, Gyllenhaal also won an Independent Spirit Award as a producer on the film for "Best First Feature." Additionally, that same year, Gyllenhaal made his Broadway debut in Nick Payne's Constellations and musical theatre debut in the Encores! production of Little Shop of Horrors.
Working with some of Hollywood's greatest filmmakers, Gyllenhaal has earned coveted roles across both independent and studio films. The actor starred in Ang Lee's classic Brokeback Mountain, for which he received an Oscar® nomination and won a BAFTA for Best Supporting Actor; David Ayer's End of Watch; Jean Marc Vallee's Demolition; Antoine Fuqua's boxing drama Southpaw; Baltasar Kormákur's Everest; Dennis Villeneuve's highly acclaimed films Prisoners and Enemy; Richard Kelly's cult hit Donnie Darko; Jim Sheridan's Brothers; Duncan Jones' Source Code; David Fincher's Zodiac; Sam Mendes'Jarhead; John Madden's Proof; Miguel Arteta's The Good Girl; Brad Silberling's Moonlight Mile; Nicole Holofcener's Lovely and Amazing; Joe Johnston's October Sky; Bong Joon-ho's Okja; Daniel Espinosa's Life; Ed Zwick's Love and Other Drugs, for which he received a Golden Globe® nomination; Tom Ford's Nocturnal Animals for which he earned a BAFTA nomination; Palme d'Or winner Jacques Audiard's first English language feature The Sisters Brothers; and Velvet Buzzsaw, where he re-teamed with Dan Gilroy.
Gyllenhaal can most recently be seen as the multi-faceted "Mysterio" in Jon Watts' Spider-Man: Far From Home alongside Tom Holland and Zendaya. The film, which was released on July 2, 2019 was the highest grossing Sony film of all time.